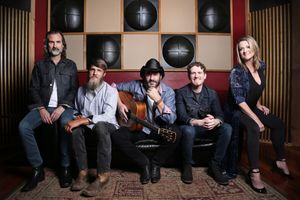 Press Kit
Bio
After years behind the songs that have become deep-seated in our lives and his 2017 acclaimed release Nature of the Beast, James LeBlanc is now carrying his sense of genuine truth into the sound of a band-oriented record. In tunes such as "Modern Day Bonnie & Clyde" by Travis Tritt and title track "Relentless" by Jason Aldean, LeBlanc's authentic approach to songwriting has become well-known by many and been what truly separates him from the rest. 
Playing live and working with talent like Muscle Shoals artist/vocalist Angela Hacker, Grammy Award winner Jimmy Nutt and players that give a fresh approach such as Brad Kuhn and Evan Lane is what caused the sound of the Winchesters to come together and prompted the upcoming The Devil Between My Ears record to be the next release. Hacker, who is a previous winner of Nashville Star, brings a soulful southern vibe while singing lead on several of the songs on the album. 
LeBlanc & The Winchesters recorded their new album The Devil Between My Ears at The NuttHouse Recording Studio in Sheffield, Alabama centered in the world-famous music mecca of Muscle Shoals, and are expected to release the band project in the fall of 2019.
Press Photos
Contact Information
MANAGEMENT CONTACT:
Steve Baker | steve@smbmg.com | (615)510-1820
BOOKING CONTACT: 
Neema Akbarzadeh (ECE Touring) | nemma@eastcoastentertainment.com | (804)419-6711